About the course
Aid Stations
Categories
Prizes
Course Map
Elevation chart
Rules and Regulations
About the course
Date: Friday, Janurary 31, 2020
Distance: 21.1km
Elevation Gain: 105m
Start Time: 06:30
Cut-Off Time: 10:00 (3 hours – 8.5 minutes per 1 kilometer)
Minimum Age: 16 years old
Course Description
The 21.1K half marathon starts on Ein Bokek road opposite the new Dead Sea Mall and heading north. Runners will run towards Ein Bokek junction where the course turns right (north) and continues on route 90 alongside the Dead Sea scenic shoreline and sparkling blue and turquoise water on the right. After approximately 5km, the course turns east onto the spacious dike, a flat compact dirt road.
Note that this course approaches the Jordanian border, a demilitarization zone and a mine hazard area on the east, and do not deviate from the marked path. Continuing south for approximately 5km, alongside Ein Bokek hotel district on the right and the Jordanian border on the left, it is a wonderful opportunity to view the amazing salt crystal formations on the right.
The course turns back north by the 10km mark and around the Dead Sea southern basin. The final 5 kilometers take runners back south along the new hotel promenade (note Nahal Ein Bokek crossing) on the way to the festive beachfront finish area, opposite the new Dead Sea Mall. Well Done!
All participants must complete and sign the health declaration and waiver statement. The form must be submitted to the registration team upon collection of race pack. Download Form here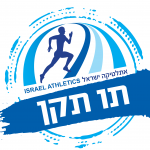 Standard Mark
The Israeli Athletics Association (IAA) officially recognizes the results of this competition. Dead Sea Marathon  is an AIMS-certified course.
Aid Stations
Refreshment stands will be located every 3-5 kilometers, serving water, isotonic drinks, gels, snacks, and fruit.
Each refreshment stand will be passed twice, on the way back and forth. Refreshment stands will alternatively provide bottled water and water in cups.
Nutrition stops exact location and service are subject to change.
It is advised to carry a personal water bag/hydration belt and your favorite snack bar and/or gel. There is no special service available for runners to deposit food/clothing along the course.
Categories
| | |
| --- | --- |
| Men | Women |
| 16-19 | 16-19 |
| 20-29 | 20-29 |
| 30-39 | 30-39 |
| 40-49 | 40-49 |
| 50-59 | 50-59 |
| 60-69 | 60+ |
| 70+ | |
Prizes
1st Place Men / Women – 1,000 NIS each
2nd Place Men / Women – 800 NIS each
3rd Place Men / Women – 600 NIS each
Notes:
Prizes will be awarded only to men and women in the first three places of the general category.
Winners in other categories will be awarded medals and trophy cups.
Elevation chart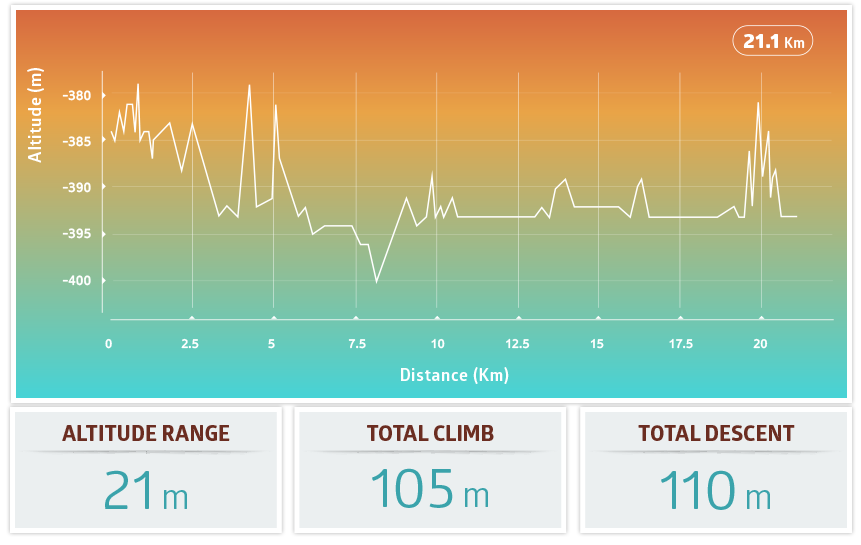 Rules and Regulations
Dead Sea Marathon Event – Rules and Regulations

If fewer than five runners are classified in one category, we will cancel this category and classify the runners in the preceding or subsequent age-group category.
Age categories are determined by year of birth rather than exact date of birth, i.e.: a participant born in February 1990 and a participant born at the end of December of that year are both classified as 30 years old. Age category is set prior to the race during check-in.
The right to participate in the race is reserved for those who registered, paid and appear on the list of participants, presented in person all the required documents and certificates during the registration process, and signed a health declaration form at packet pick-up.
Race bib exchange is not allowed, participation under a false identity is strictly prohibited and hazardous.
All participants are required to run wearing a shirt or undershirt (doesn't have to be the race's shirt), and the race's bib number with timing chip received at race kit pickup, prior to the race.
Race officials – referees, marshals, organizers, management and rescue vehicles, army and police – must be obeyed at all times. Participants who fail to adhere to this rule will be disqualified.
The organizers reserve the right to deny a participant the right to continue the race if for any reason the race team concluded that the participant's safety and/or health are at risk.
Littering is prohibited and will result in an immediate disqualification. All waste must be appropriately collected and may be disposed of only at checkpoints and refreshment stops.
Good sports behavior should be maintained throughout the competition and in life in general. Participants who will violate rules of conduct and proper behavior towards referees, marshals, other competitors or other users of the area (pedestrians, spectators, etc.) will be disqualified. Examples of unsportsmanlike behavior: violent bypassing, cursing, pushing, endangering others.
Spectators may not join the course in order to run or cycle alongside race participants.
Any participant who for any reason is forced to retire from the race will immediately report to the race team. An emergency phone number appears on the racing bib. Participants who leave the course without notifying the organizers may be charged the cost of the search teams that will be called in.
Official course routes are marked with arrows. Do not deviate from the marked course. Slow down and look for the official race markings at every intersection before proceeding appropriately in the right direction. Do not turn at any intersection unless otherwise directed by the official arrow marking. A red arrow pointing downward marks a potential hazard on course – a crevice, a hole, a rock, a slope, etc.
Professional race timing by B-Timing.
Gun timing starts the race clock.
Appeals: any appeal that may affect the order of first three places of each category should be submitted within 30 minutes from result publishing. 400 ILS submission fee is refundable only when appeal is accepted. No appeals will be allowed during the award ceremony.

Errors and Omissions Excepted (E&OE)