Schedule
Races and Fees
Directions and Parking
Start and Finish Areas
Transportation for runners
Baggage Storage Service
Cancellation Policy
Group Registration
Schedule
Thursday, February 3
16:00 – Expo and Race Bib Pick-Up on event site – until 21:00
17:00 – Family sport activities on the beach
18:30 – Race briefing (Hebrew and English) on event site
21:00 – End of activities at Expo area
Friday, February 4
05:00 – Start Area ready with Race Bib Pick-Up and Coffee Shop
06:15 – Marathon and 50K – Start Time
07:00 – 21.1K Veridis Half-Marathon – Start Time
08:30 – 10K Run in memory of Tomer and Giora Ron – Start Time
08:45 – 5K – Start Time
08:00 – Expo Lifestyle and Sports Exhibition Opening
Award Ceremonies and the Concluding Ceremony
10:30 – 5K and 10K Award Ceremony
11:00 – 21.1K and 42.2K Dead Sea Marathon Award Ceremony
12:00 – 50K Ultra-Marathon Israel Championship Award Ceremony
Notes:
There may be schedule changes, please re-check for updates prior to the event.
Award ceremony may be held earlier when winners of all categories finish the
race before the scheduled time.
Race Packet Pickup
Early race packet pickup – Will be held a week before the race (27-28/1/2022) in Tel Aviv, location will be published soon.
Day Before the Race – Race kit distribution booth will operate at the race's EXPO on Thursday February 3 (The day before the race), and on the morning of the race at the gathering area.
Races and Fees
| | | | |
| --- | --- | --- | --- |
|   | Early Registration | Regular Registration | Late Registration |
| | 1/7 – 30/8 | 1/9 – 31/12 | 1/1 – 1/2/22 |
| 5K | 80₪ | 90₪ | 120₪ |
| 10K | 130₪  | 150₪ | 160₪ |
| 21.1K | 190₪ | 240₪ | 260₪ |
| 42.2K | 230₪ | 260₪ | 300₪ |
| 50K | 260₪ | 310₪ | 340₪ |
Entry fees are subject to change at any time.
Prices are shown in Israeli currency.
Race kit includes: Entry, Race Bib and safety pins, Race booklet, Participants complimentary gift.
In the case of restrictions that prevent the event from taking place, by virtue of government guidelines and orders relating to the covid-19 pandemic – race production will produce a full refund of the registration fee to participants (with a 5NIS commission for handling fee and credit card clearing).
Directions and Parking
Route 90 blocking – UPDATE
This year there will be no blocking of route 90 due to new and improved race course. Participants wishing to travel from the north (Ein Gedi, Jerusalem, etc.) are welcome to do so.
Waze Navigation app
Using Waze navigation app – search for "Parking – Dead Sea Marathon"
From mobile (need Waze app) – [Press here]
Parking Area
Upon arrival you will be directed to the parking lot located near hotel Isrotel Ganim and the race finish area. Direction signs, ushers and marshals will lead you to the assembly area and starting line located 1km to the south. Parking is prohibited in  areas marked in red and white.
Map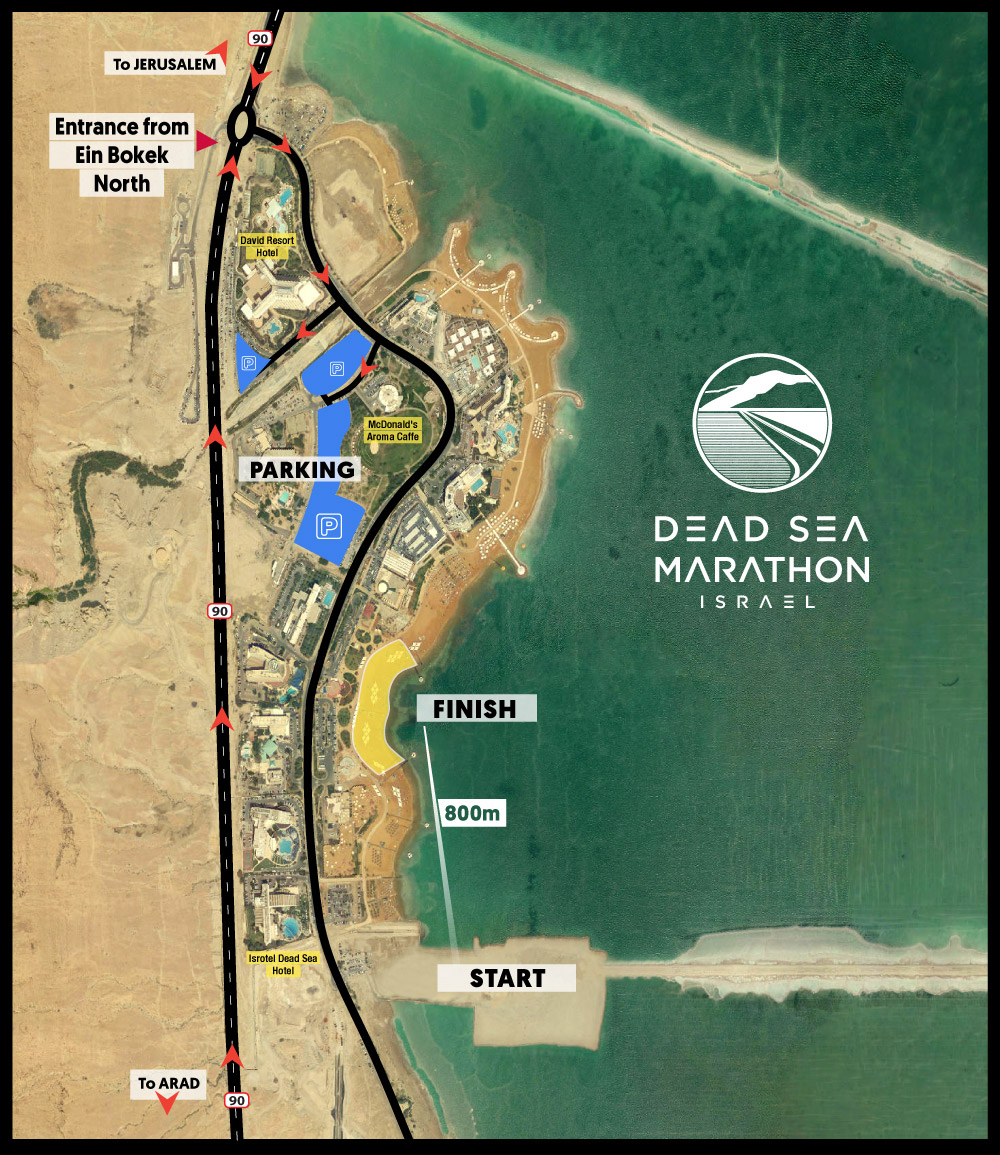 Start and Finish Areas
Gathering area / Finish zone / EXPO
Located on the promenade beach next to the Dead Sea Mall.
Featuring: race kit pickup desk, expo booths, ceremony tent with speaker's stage, medical tent, food and drinks, DJ, massage tent and more. Open from Thursday 4pm to Friday 2pm.
Start area (Race day only)
Located 800m south of the finish area, on the artificial island in front of Isrotel Dead Sea Hotel. At the start area you will find hot/cold drinks stand, lavatory facilities and race rack pickup desk.
Bag disposal in the start area will be collected at the finish zone.
Race Pack Pick-Up station –  If you haven't picked-up your race pack in advance as recommended, please arrive approximately 1½ hour before race starting time.
No weapons will be allowed into the event area and there will be no weapon check-in service by the entrance.
Transportation for runners
The race organization provide a coach service from Tel Aviv and from Jerusalem to the race and back at the same day.
Tel Aviv – Departure – Friday 4/2/22
Time: 02:30, Arrive to race: 05:00 (an hour before marathon and 50km races start)
Location: Bechor Shalom Shitrit 6 Tel Aviv (a big free parking lot)
Return Time: 13:00, Arrive to Tel Aviv: 15:00
Fee: 160ILS (via online registration system)
Location of Bus station in Tel Aviv (Bekhor Shalom Shitrit6)
Jerusalem – Departure – Friday 4/2/22
Time: 03:30, Arrive to race: 05:00
Location: Near Teddy Stadium
Return Time: 13:00, Arrive to Jerusalem: 14:00
Fee: 120ILS(via online registration system)
Location of Bus station in Jerusalem (Tedi – East Parking)
Advance online registration is required.
The bus will not wait for late passengers.
Departure from Ein Bokek as soon as all passengers arrive at the bus (even if earlier than estimated time)
Baggage Storage Service
Baggage storage service will be available at the start area (pre-paid through the online registration system) for depositing bags and valuables before the race and collecting them at the end of the event at the finish area.
Participant identification will be confirmed by bib number.
Cancellation Policy
Cancellation policy subject to the Consumer Protection Law 1981 "Transaction Cancellation".
Service/participation cancellation request will be submitted only in writing, by email to marathon@forumpro.co.il
Cancellation made within 14 days of registration will be only subject to 5 nis handling and clearing fees.
Cancellation made 14 days after the date of registration or later will be refunded as follows:
Cancellation requests received by November 15, 2021 – 60% refund
Cancellation requests received by January 1, 2022 – 40% refund
Cancellations requests submitted after January 20, 2022 even when received less than 14 days from registration date will not be refunded.
Registration Update or Changes
Requests for race change can be submitted by January 1, 2021 subject to 50 nis handling fee. No requests will be considered after this date. If you find any error (name spelling, gender, etc.) please inform us at marathon@forumpro.co.il
Individual participant replacement without coordination with the organizers is strictly prohibited.
It is advised to revisit the Dead Sea Marathon website and follow our updates as well as the newsletters that will be sent to you soon.
Group Registration
Participation in the race begins long before the start line, the joint training and the many kilometers team members shares worth much more than any podium.
The Dead Sea Marathon invites large groups of runners (over 15 runners) to rise to the challenge. Contact marathon@forumpro.co.il for special registration offers and accommodation packages.